*UPDATED* Apple not happy with Rogers' iPhone plans
This article contains unofficial information.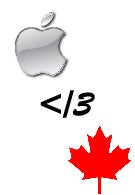 The big wigs at Cupertino are said to be miffed at Rogers' iPhone 3G pricing, so much so that they are apparently diverting shipments to Europe, leaving Rogers stores with only 10-20 per store on launch day. Furthermore, it is rumored that Canadian Apple stores will not be selling the iPhone 3G. Rogers' plans start off at $60/month for only 150 minutes, 400MB of data and 75 text messages and max out at $115/month 800 minutes, 2GB of data and 300 text messages. And
we thought
AT&T plans were expensive.
Update:
Looks like Rogers has caved. There is a new "promotional" data plan which gives users 6GB of data for $30/month, and can be used with any voice plan. Not quite unlimited, and it does require one of those crazy three year contracts, but it's basically the same thing AT&T is offering. No word on whether stock is being re-diverted back to Canada or not.
via:
uberphones