Twitter updates its mobile apps with multi-upload and photo tagging
3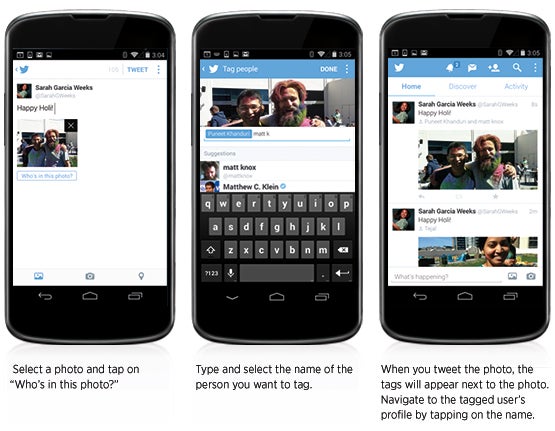 Twitter has came up with an update toits mobile apps. In an effort to "make photos more social", thenetwork added the option to multi-upload photos while posting atweet, and let users tag up to 10 profiles in it. With the changes inplace, the good old 140-character tweet can now contain up to fourphotos. Tagging, meanwhile, works by tapping "Who's in thisphoto?" and typing in a username. Similar to how Facebooktackles this business, tagged users will be notified and have theoption to approve or deny tags. Also, both photos and tags will bedisplayed in embedded tweets.
The update has already reachedTwitter's iOS app, while the Android version is on its way to GooglePlay. Sadly,Windows Phone and BlackBerry aren't mentioned *cue in the Low Market Share orchestra*.
Compared to other social networks,Twitter has been keeping relatively quiet lately. It hasn't enforceda radical redesign upon its unsuspecting users yet. It hasn't evenbought any virtual reality companies, or any companies for thatmatter. Vine's successful launch remains the last major event in thesocial network's history, and that happened what seems to be eonsago. Oh, we almost forgot - the service held its own in a remarkable fight against government censorship in Turkey, but that's not related to technology. Hopefully, the network is cooking up something big for 2014.Otherwise, we can't help, but ask – dear Twitter, where's theinnovation?
via BBC