Twin Blades for WP7 is no longer available due to violating "marketplace content policy"
2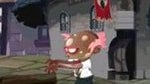 You'd think that game titles are pretty much in the clear once they've been released and made available for purchase, but in the case of one Windows Phone 7 game, it seems that it's being yanked off after its launch 4 months ago.
If you've been using Microsoft's new platform and have taken a peek at its XBOX Live games, you're probably familiar with the game called
Twin Blades
which is a side scrolling game that places you in control of a character fighting off hordes of zombies. However,
Microsoft recently had to pull the action horror game
from the Marketplace citing that it violated "
marketplace content policy
."
Of all things, it makes you really wonder what's going on considering that the game was made available at launch – like, how was it even approved back then? And of course, it sheds light on the fact that Microsoft had to be involved in the approval process from the beginning in order for the title to receive its creation and certification.
Unfortunately, Microsoft didn't elaborate on what "marketplace content policy" it was violating, but instead, Business Manager of Mobile Gaming at Xbox Live Karl Stricker said, "We had to remove it due to marketplace content policy. More detail on the Xbox forums to come." Now, it can be related to the "M" rating that the ESRB placed on the same title for the Sony PSP, which means that it is unsuitable for the Marketplace.
via
WMPoweruser