Twice as many app publishers reach the million-dollar mark on the App Store compared to Google Play
35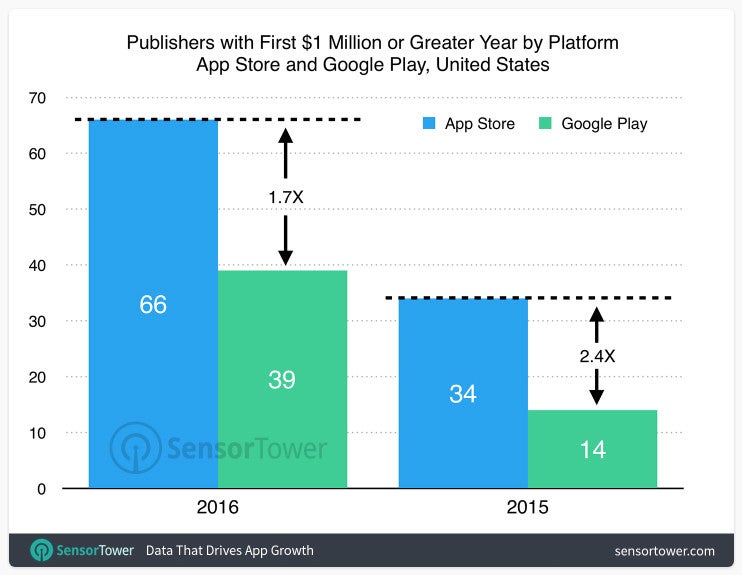 According to a recent report by market intelligence company Sensor Tower, more app publishers are likely to make their first $1 million in annual revenue on Apple's App Store, rather than Google Play. Sensor Tower's data shows that 66 iOS app publishers reached this milestone in 2016, while only 39 managed to achieve the same on Google's online storefront.
Further, the data shows that the number of publishers who made their first million over the last year on the U.S. App Store has nearly doubled over 2015. Tower Sensor's report takes into account in-app revenues, which does not include advertising revenue.
Still, Google Play managed to more than double its number of million-dollar publishers on its U.S. storefront last year – from 14 in 2015, to 34 in 2016.

Another interesting bit of information from the report concerns publisher focus per category, or in other words, which app categories are the most popular to develop for across iOS and Android.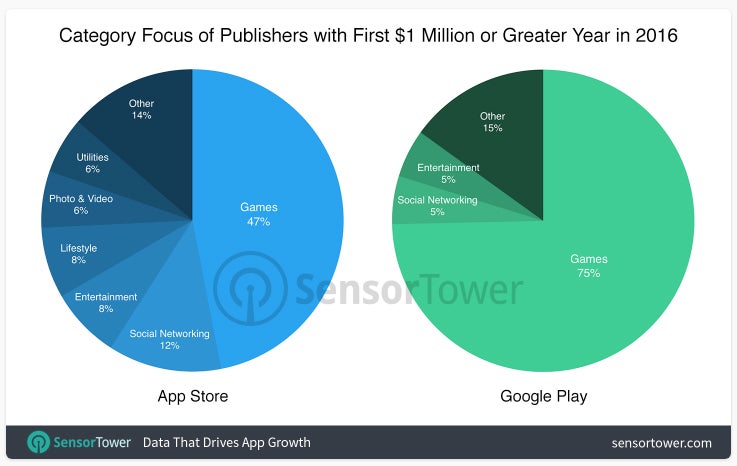 As it turns out, games are much more popular on Android, among developers, at least, as they are on iOS. The statistics show that 75 percent of the million-dollar publishers on Android made their money with games, compared to 47 percent on iOS. Still, games seem to be generating the biggest revenues across both platforms.
Further, a wider and more diverse range of categories brought app publishers their first million dollars on the App Store. Aside from games, the Social Networking, Entertainment, Lifestyle, Photo & Video, and Utilities categories were profitable for App Store publishers, while only Social Networking and Etnertainment accounted for more than 5 percent of the total, apart from games, the report concludes.
According to Sensor Tower, Apple is likely to maintain its leading position in terms of monetization, although Google Play is also gaining some much-needed momentum with respect to this as well.