Toshiba shows off 5.1", 7.7" and 13.3" tablets, no real info yet though
2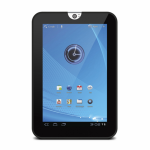 Yesterday, Toshiba got a lot of CES buzz by showing off the 10"
Excite X10
tablet, but it looks like that's not all there is to show. Now, we're seeing three more tablets on the show floor for Toshiba, and we're hoping to get more info on them later today.
As you can see in the pictures below, the 5.1" tablet has an extremely elongated form factor, which would make one believe it could be a phone, but we don't see any speaker grill on the front, so it seems more likely it is a tablet. The 7.7" is a form factor that we've seen before, but the 13.3" is the real mystery here. We've seen 5" devices and almost every other size from 7" to 10.1", but 13.3" is huge. And, as you can see in the photo, there is no size saved with a smaller bezel on that tablet.
Given Toshiba's history, we feel safe in assuming these are all Android tablets, and given that we don't see any buttons anywhere, we'll guess they are all running Honeycomb or Ice Cream Sandwich. But, beyond that, the only other info we have is that Toshiba is planning to release all of these devices this year. We'll bring you more when we get it.