Toshiba announces dual 5MP camera module for smartphones and tablets with stereo-3D shots and digital focus in tow
6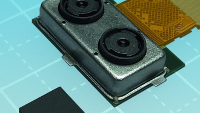 Toshiba has announced a dual 5MP camera unit, along with a companion chip, for application in smartphones and tablets this last Friday, and it's quite intriguing. According to the press release, sampling availability starts on January 31st 2014, though it's the bundle of new features that really caught our attention, and for a good reason.
The new product is touted to be quite unique, and it'll incorporate twin 0.25-inch optical format 5-megapixel CMOS camera module, capable of simultaneously recording both image and depth data. The aforementioned companion chip will use the recorded depth data and then apply it to objects in the image, in order to produce something of a stereo-3D shot. Furthermore, functionality such as digital focus tweaking and extracting or erasing entire objects from the image has also been thrown into the mix, making the "TCM9518MD" twin camera unit quite interesting.
In case you're wondering, the twin 5-megapixel cameras will generate a 13-megapixel image, through upscaling. Toshiba touts this as advantageous, as this allows for the camera to be made thinner than currently available 13-megapixel solutions on the market. This, in turn, should allow for slimmer smartphones, though Toshiba hasn't actually given a particular timeframe as to when we can expect to see the new module enter mass production.
You can check out the full specifications of the new unit
here
.
TOKYO--(BUSINESS WIRE)--Toshiba Corporation (TOKYO:6502) today announced that it will start sample shipments of "TCM9518MD", for application in smartphones, tablets and other mobile devices, on January 31, 2014. The new product is the industry's first[1] dual camera module to incorporate twin 1/4 inch optical format 5-megapixel CMOS camera modules (5 megapixels x 2 arrays), which simultaneously outputs recorded images and depth data.
The dedicated image processing LSI of the "TCM9518MD" measures and appends depth data to objects in the image. Used in combination with customers' applications, the module supports new photo functions, including focus and defocus, and even allows objects in photographs to be extracted and erased.
The image processing LSI generates 13-megapixel images by upscaling images taken by the twin 5-megapixel cameras, realizing a lower module height than that of conventional 13 megapixel camera modules[2].
Applications
Cameras for cell phones, smartphones and tablet PCs
Key Features of New Product
Simultaneous output of depth data (Depth Map) and deep focus image[3], supporting functions which include focus and defocus, and even to extract and erase objects from the picture, in combination with customer's applications.
Output of 13-megapixel image, generated by the dedicated image processing LSI and the twin 5-megapixel cameras of the module.
Digital focus function, which enables to adjust the point of focus without mechanism to move lenses.
Main Specifications
Part Number TCM9518MD
Output Resolution 13 megapixels
Sensor and Resolution 5 megapixels x 2
Optical Size 1/4 inch x 2
Pixel Size 1.4 micrometer
Module Size 18.0 x 12.0 x 4.65 mm
For further information about this product, please visit:
http://www.semicon.toshiba.co.jp/info/lookup.jsp?pid=TCM9518MD&lang=en
Notes:
[1] For dual camera module with the companion LSI which output depth data. Source: Toshiba, as of December 2013.
[2] Generally for single camera modules, a bigger output image size requires a higher camera module. This product is lower than commercial 13-megapixel camera modules. Source: Toshiba, as of December 2013.
[3] Images in which foreground and background and all points in between are in focus
Customer Inquiries:
Image Sensor Sales & Marketing Department
Tel: +81-3-3457-3370
Information in this document, including product prices and specifications, content of services and contact information, is current on the date of the announcement but is subject to change without prior notice.
About Toshiba
Toshiba is a world-leading diversified manufacturer, solutions provider and marketer of advanced electronic and electrical products and systems. Toshiba Group brings innovation and imagination to a wide range of businesses: digital products, including LCD TVs, notebook PCs, retail solutions and MFPs; electronic devices, including semiconductors, storage products and materials; industrial and social infrastructure systems, including power generation systems, smart community solutions, medical systems and escalators & elevators; and home appliances.
Toshiba was founded in 1875, and today operates a global network of more than 590 consolidated companies, with 206,000 employees worldwide and annual sales surpassing 5.8 trillion yen (US$61 billion). Visit Toshiba's web site at www.toshiba.co.jp/index.htm
Contacts
Media Inquiries:
Toshiba Corporation
Semiconductor & Storage Products Company
Takashi Mochizuki, +81-3-3457-4963
semicon-NR-mailbox@ml.toshiba.co.jp