Toshiba announces 128-gigabyte NAND chips perfect for the next gen of high-end smartphones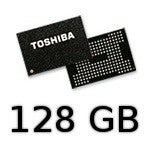 How much storage capacity does your smartphone have? 4 gigs? 8 gigs? Even if you buy the latest, most advanced handheld on the market right now, you probably would not get more than 32 gigs of storage built-in. Sure, that is more than enough for most users out there, but
Toshiba
has already announced its first
128-gigabyte
NAND flash memory chips hinting that they will be landing in smartphones and tablets pretty soon.
If you are having troubles visualizing 128 gigabytes of data, think approximately 32000 iTunes songs or over 60 hours of HD video. In comparison, the 64 gig iPad 2 model can theoretically store only half of that. Toshiba makes the production of the new 128 gig chips possible thanks to a
19-nanometer
manufacturing process. In result, a greater number of transistors can be crammed into a memory chip small enough to fit in portable devices. The new technology might also reduce the production costs of smaller 64- and 32-gigabyte NAND chips making them more affordable for smartphone manufacturers.
It is supposed that Toshiba's own smart devices will ship with the new chips first, but since testing samples have been handed out to other companies already, it wouldn't be surprising if somebody else beats them to it. For example, Apple has been using Toshiba's NAND chips for quite a while now, so the next iPhone and iPad iterations might actually offer more storage capacity than ever before.
Production of the new chips should switch to full speed later this summer, which means they will most probably start appearing in smartphones and tablets by Christmas of this year.
source:
Toshiba
via
Electronista