Toshiba TransferJet moves data at 560Mbps, needs no wires
3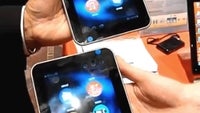 Besides a bunch of new tablets, Toshiba had brought one more of its creations to show off at CES 2012. We are talking about the
TransferJet technology from Toshiba
, which is a new protocol for transferring data across devices without the need for those pesky wires.
But what makes TransferJet better than, let's say Bluetooth or Wi-Fi Direct, you ask? Well, first of all it is capable of reaching speeds up to
560Mbps
, which is faster than your average home Wi-Fi network. At the same time, Toshiba claims that TransferJet uses less power than Bluetooth, which, if true, would be quite an accomplishment given how little power the latter technology consumes. All that is required is for the transmitting and receiving devices to be close enough to each other.
In theory, Toshiba's TransferJet technology sounds like a fitting candidate for implementation in mobile devices. In fact, the company did a demo at CES 2012 using a pair of Android tablets, among other pieces of electronics. Will it ever be widely adopted, however, is something that only time will show, but samples are already available for testing by manufacturers.