Tizen powered Samsung Z1 handset off to a slow start in India
23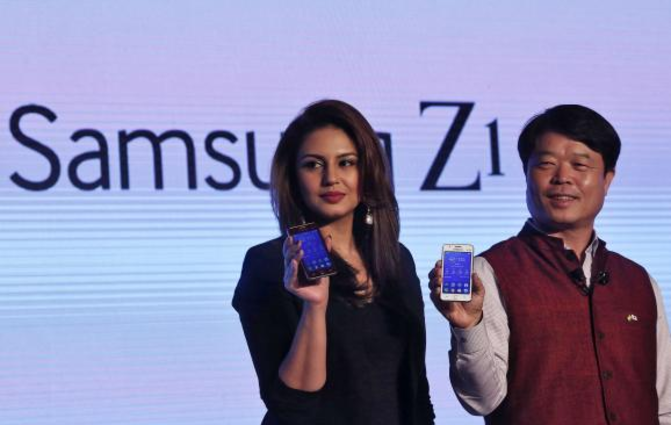 Samsung India president Hyun Chil Hong (R) shows off the Tizen powered Samsung Z1 along with Bollywood actress Huma Qureshi
With two-thirds of the 950 million mobile phone users in India still clutching a featurephone, you would think that smartphone manufacturers catering to first time smartphone buyers in the country would be enjoying great success. As an emerging market, the country doesn't have the necessary prosperity to support huge sales of expensive high-end handsets. Half of the smartphones in use are priced at less than $100.
With 280 different smartphone brands available in the country, it is hard to stand out and keep prices low at the same time. Google tried to get Indian consumers to buy its Android One handsets, which are low priced models powered by Android. The phones themselves were made by local manufacturers like Micromax. Despite
spending a ton of money to promote Android One in India
, sales have been not been encouraging. The latest smartphone to try to crack this market is the
Samsung Z1
. The device is powered by Sammy's own Tizen OS and is priced at the equivalent of $92 USD. So far, the model has not been selling well at all.
But analysts in the region say that to succeed in the Indian market with a Tizen model, it will take more than just a low price. IDC analyst Karan Thakkar said, "
It's not always about the cheapest, customers are looking for specs ... There are already a plethora of devices running on Android that Indian customers can choose from
." Samsung says that its Tizen powered phones offer a simple UI, faster loading of web pages, and a long battery life.
As noted by one consumer, the 3.15MP rear camera and .3MP front camera on the Samsung Z1 are "
like a phone from 2010.
" And when it comes to apps, Samsung says that 1000 will be available for the Z1, including Facebook and other social media sites. That pales when compared to the more than one million apps available for Android devices in the Google Play Store. But Samsung is hoping that the use of Tizen for other products including televisions and watches, will encourage developers to write for the platform. In addition, Samsung has promised to pay developers 100% of revenue derived from app purchases and in-app purchases from the Tizen store for a full year.
"Samsung has been delaying the launch of this Tizen phone for a long time and when they finally did it, it turned out to be an under-powered phone."-Samir Ahmed Sheikh, phone shopper
Right now, the Samsung Z1 is a hard sell in India, especially when consumers there can buy a much higher spec'd phone at just about the same price. And the tough part for Samsung is that it might have no simple answer to boost sales without hurting margins and the bottom line. Considering how
rough things have been for the manufacturer lately
, Samsung would prefer not to cut the price of the phone.
source:
Reuters