Tim Cook for president???
23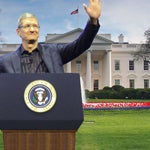 We
reported yesterday
on an interesting exchange that took place between Adam Lashinsky, senior editor at Fortune magazine, and an employee of Linked. It covered Apple's
secret unboxing facility
, their habit of putting new employees on fake projects, and a unique take on Tim Cook's future in politics. Unfortunately, the excerpt video of the exchange was taken down by YouTube over a copyright claim by Linkedin. So we'll bring you the entire 50 minute interview from Linkedin's YouTube channel.
To set the stage: Lashinsky was promoting his recently released tell-all book "Inside Apple", and during the Q&A portion he ran into an ex-Apple employee that entered into a prolonged Q&A exchange.
The unnamed employee confirmed that new Apple employees are indeed
put to work on fake products
until Apple develops enough trust in them to promote them to products that will actually make their way to market. After that, the two get into a discussion of how charismatic Apple's leaders are, and the employee states:
"
Even Tim Cook has so much charisma that he could certainly be our next president. I can say that very, very confidently.
"
For his part, Lashinsky doesn't dispute the claims about Cook's political potential, although he does go on to point out that Cook, like most CEOs, may not be cut out for all of the posturing and intransigence that goes on in the political world. And let's face it, Cook would be taking a heck of a pay cut if he were to become president any time soon.
The entire 50 minute interview is worth a watch, but if you wanted to see the Cook for president portion and missed the excerpt yesterday, it starts just after the 40 minute mark.
At the least, it's clear that even ex-Apple employees are
very taken
with the company's leaders.
source:
PCMag