TiVo shows off streaming to iPads
1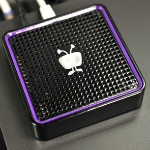 We finally got the
Android TiVo app
that we had been hoping for, but it does require a Premiere account, doesn't work with certain devices, and it doesn't have any streaming option. Of course, just like the iPad got the TiVo app first, it looks like the iPad is getting that cool streaming option first as well.
At CES, TiVo has been showing off a prototype box that allows users to stream recorded content to an iPad. The company says that the box should be able to stream content without troubles on any network fast enough to handle its multi-room DVR feature. Of course, in order to stream, it does look like you'll need the box, and right now there is no way to stream content from outside of your home. You have to be on the same network.
Of course, this is still a prototype, so it's possible that this transcoder box will get built-in to future interations of TiVo hardware, and there may be options to stream your content while away from home sometime later.