This smart HP backpack will charge your phone (up to 10 times), tablet, and laptop
8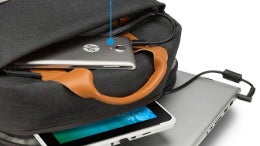 HP recently announced a very cool "intelligent" backpack that includes a generous 22400 mAh battery, and can charge three types of devices at the same time: laptops (up to 17.3 inches), tablets (up to 3 times), and smartphones (up to 10 times). Compatible products include most HP laptops, Android phones and tablets (as long as they don't feature USB Type-C connectors, or proprietary charging methods), as well as the latest Apple iPhone and iPad models.
The new backpack, called HP Powerup Backpack, is smart because it comes with a built-in heat sensor that monitors its temperature and automatically adjusts it when needed, while also meeting security requirements for in-flight carry-ons. The product features durable canvas and straps, being able to resist wet weather (it also includes a raincoat, just in case it's really pouring outside).
And now the somewhat bad news: the HP Powerup Backpack costs $199.99 (so it's certainly not cheap), and won't be available before October 1. If you're interested, the backpack can already be pre-ordered on Amazon (check out the source link at the end of this article). You can see the Powerup Backpack in action in the official HP video embedded below.
A backpack that kind of resembles the HP Powerup was
funded not long ago via Indiegogo
. It would be cool if we'd had similar backpacks made by more companies (thus being able to charge a wider range of portable devices), wouldn't it?
source:
Amazon
via
HP
(YouTube)
Recommended Stories