This is what users have accomplished in the two years since Ingress was released
4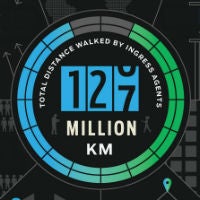 It has been two whole years since Ingress was first released; and, in that time, the game has become something much bigger. Niantic Labs didn't set out to just make a game, but to build a world atop our own. The game has an incredibly loyal player base, and to celebrate its second birthday, Google has put together an infographic of the impressive feats its players have accomplished.
The list of accomplishments are pretty impressive, especially considering that the game was in closed beta for the first year of its life, and was Android-only until just this past July. Google says that Ingress has been played in over 200 countries, which is interesting mostly because even the loosest definition of "country" would put the total at around 204 countries on Earth. In those countries, Ingress players have walked 127 million kilometers (~78.3 million miles), visited over 178 million portals, and held 281 live events. That's a lot of game, and it doesn't appear to be losing steam. Google continues to organize live events and add features to the game.
What about you guys out there? Are you playing Ingress? If so, are you Enlightened or Resistance?