This interactive projector would be far more useful than the Sony Xperia Touch
5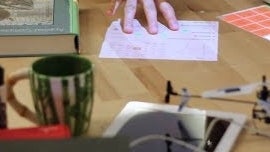 If you're not familiar with what interactive (or augmented reality) projectors actually are, let us fill you in. Imagine a touchscreen that you can put on any flat surface imaginable. Interactive projectors do just that – they project an image that you can interact with, usually the same way you interact with a touchscreen display.
The
Sony Xperia Touch
is one of the few such devices available to the end consumer, but it does come with a pretty solid price tag considering its many, many limitations. Of course, the field of interactive projectors is pretty new, so we can't expect perfect devices right off the bat.
However, we just came across a project that captured our interest, and that seems to hold far more practical value than the currently-available AR projectors. A team at Carnegie Mellon University has developed a prototype AR projector which can actually interact with both the user, and the environment it's used in.
As you can see from the video above, the device projects an interactive image on a regular desk. This particular design hold a lot of potential, mainly due to the fact that users would not need a surface that's completely free of other objects. In fact, such a projector would be best used in conjunction with real objects on our workstations, such as keyboards, notebooks, laptops, and so on.
The team has managed to employ depth sensing technologies that allow the projected image to interact with other objects on the desk. For example, you could snap a virtual calculator to your laptop that moves with it. Also, in case you mistakenly place your coffee mug on top of your projected calendar, the AR projector will automatically find a new free spot to move the projection of your schedule to.
Unfortunately, the technology is still a prototype and we can't know if it will ever make its way to the end-user. That being said, if it does, it will provide a lot of flexibility for office workers.
source:
Robert Xiao
via
BGR