This iPhone case will cut your steak, or chop down a tree
17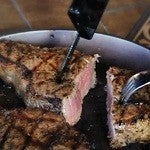 We have all been there, seated at the table, ready to dig in to a dinner of large juicy steak except for one thing…there are no steak knives anywhere. Admit it, this happens to you more often than you care to remember. Then there are those times when you are hiking through the woods and you suddenly have the urge to cut down a sapling. If only you had a serrated saw blade with you to do that. We get it, these are real problems.
Enter the TaskOne multi-tool case for the iPhone 4/4S or iPhone 5. All kidding aside, this case has been
very well thought out
. This concept is currently seeking funding through Indiegogo, and is the design of an engineer who used to work at Apple. The case is made of aircraft aluminum which houses the tools and protects the iPhone. The case also endures all the stresses when using the tools so it will not warp and potentially damage your device. The aluminum casing is really just the back plate while a polycarbonate housing is a bumper around the edges of the iPhone so there is no signal disruption.
What do you get if you get in on the crowd funding? Well, for $75, the "early bird" special, you will get a Jet Black TaskOne case for your iPhone. Once production begins, prices for the cases will sell for about $90. They are 8 days from their deadline and less than $4,000 from hitting their goal of $32,000. TaskOne is making distributor packages available also. In addition to black, there will be colors available in Cherry Red, Slate Grey and a limited edition Orange Flame, which will be available for $150. They will ship internationally too.
What is in the case?
Sixteen different tools!
A 2.5-inch knife with 0.75-inch serrated edge, 1.8-inch saw blade, small and large flathead screwdrivers, medium phillips head screwdriver, pliers with integrated 3-8mm wrench, wire cutters, 6 metric Allen wrenches, spoke wrenches, wire stripper, 120mm ruler, kickstand and a bottle opener. The blades on the case are removable without tools, so you do not have to worry about hassles at the airport when you travel.
If TaskOne can meet their funding goal, cases will be delivered in April 2013. We were poking fun in the beginning, but there is no doubt that accessories like this do come in handy in a nick of time. Check out the TaskOne source link below if you want to get in with the project and we will take our steak medium-rare.
sources:
TaskOne
via
CNET