This iPhone 5c saved a man from a shotgun blast to the chest
42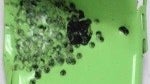 When you think about the iPhone 5c as a whole, the device didn't get very far. Apple couldn't really market it as something more than the "iPhone 5cheap", hence the otherwise perfectly good smartphone was met with a less than enthusiastic market reception.
This iPhone 5c, however, went as far as to save the life of a lucky man in an unlucky accident. In October last year, 25-year Daniel Kennedy confronted a gang of teenagers in Widnes, England that had shut off the water supply to the block of flats in which he lived, and had been harassing the tenants. An altercation ensued, in which Kennedy chased 19-year old Ryan Duggan down a footpath. The teenager stopped in his tracks, pulled off a sawn-off shotgun, and fired at Kennedy from close range, causing serious injuries to his abdomen. He fled the scene, while the victim managed to get to the block of flats and get help from the emergency services.
While searching the local area, the police discovered Kennedy's green iPhone 5c, which had fallen during the accident. It became apparent that the phone had taken the majority of the shotgun blast. According to detective inspector Gary McIntyre, who led the investigation, the victim would undoubtedly have died, had the phone not been in his pocket.
Later, officers discovered the shotgun in a bush, wrapped in clingfilm and concealed under a bush, with the spent cartridge still inside. They also seized a jacket from Duggan's home address and found traces of gunshot residue on it. Subsequently, the outlaw was traced to a flat in nearby Burnley, and arrested along with Jordan Grimes who had provided him with a hideout by letting him stay without reporting to the police. Both criminals will be sentenced on July 10.
source:
Cheshire Police
Recommended Stories