This could be the 360-degree panoramic video camera for the iPhone you've been waiting for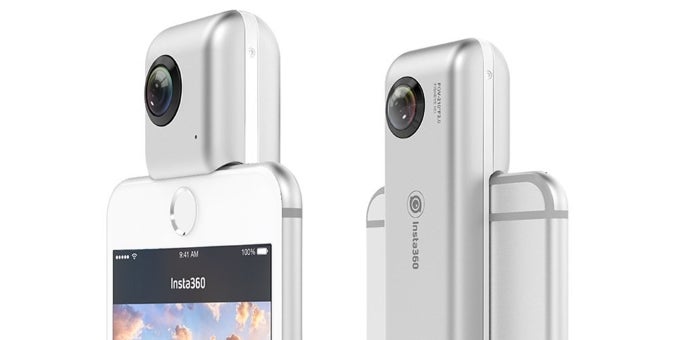 A while ago, Samsung and LG happily unveiled 360-degree spherical photo cameras, named Gear 360 and LG CAM (respectively), to go along with their flagship smartphones. But it doesn't look like Apple will be jumping into the trend anytime soon. For one reason or another, Cupertino chose to leave a void where there could have been an Apple 360 camera. Meanwhile, the team behind the Insta360 Nano seizied the opportunity and introduced its 360-degree iPhone camera.
Starting at 199 British pounds, the accessory is compatible with the iPhone 6, 6s, 6 Plus, and 6s Plus. It attaches to their backs and lets users film 360-degree footage of their surroundings. It features two 210-degree FOV cameras, with software stitching together images from both into full 360-degree photos and videos.
The camera comes with its own 800mAh pack and microSD slot built-in, so you won't be worrying about it draining battery or filling your storage with panoramic video in resolution up to 3040 x 1520 pixels at 30 frames per second. The accessory is also MFi-certified by Apple, so it should operate as expected from a genuine, authorized product. The Insta360 will start selling July 31.