Third party iOS developers can now offer auto renewable in-app subscriptions
8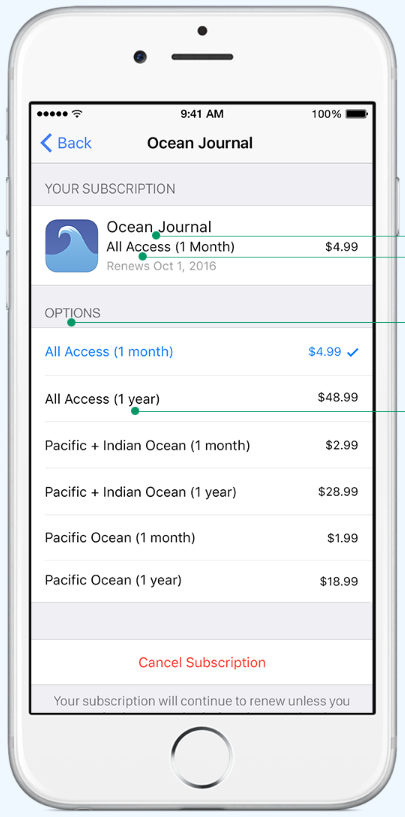 iOS Developers can now offer in-app auto-renewable subscriptions
First mentioned in June, Apple has now officially made some changes that allow third party developers to offer automatically renewable subscriptions from inside an iOS app. As the length of the subscription comes to an end, the subscriber will automatically be charged for another subscription of the same length. This repeats over and over until the subscriber decides to cancel it.
Now, offering free trials for iOS apps is much easier. The trial subscription will start right away, and the subscriber won't be billed until the trial period ends. A free trial can be no longer in length than the period of a regular charged subscription. For example, if a developer offers in-app subscriptions that run for a month, a free trial can last no longer than one month.
Apple is even willing to eat some cash to offer this. Like most apps, during the first year of an auto-renewable subscription, the developer receives 70% of the revenue and Apple takes a 30% cut. Once a subscriber's first year of an auto-renew subscription is over, future revenue from this particular customer is split with 85% going to the developer and 15% going to Apple. If a subscriber drops the service and renews within 60 days, the days of service start up from where it left off.
If you're a developer who is exploring offering in-app auto-renewable subscriptions, you should check out Apple's message to App Store developers that can be found by clicking on the sourcelink.
source:
Apple
via
TheVerge