The next-generation of power cells will double or triple your battery life
16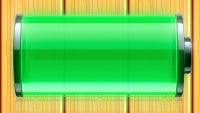 Researchers at Stanford University have discovered what could be the next-generation of Lithium-ion batteries. Instead of wasting a lot of power like current lithium-ion batteries do, this cell employs a nanoscopic carbon shield allowing for longer battery life. Former U.S. Energy Secretary Steven Chu, who now works at Stanford as a professor, says that such a battery could provide smartphone users with two to three times the battery life that they now enjoy.
Don't expect to see these new cells powering up your smartphone real soon. There is plenty of engineering and technical work left. We'd bet our bottom dollar that one of the issues that will need to be worked out is the size of the battery, which after all, will have to fit inside a smartphone casing.
Today's batteries have three parts to them: an electrolyte to provide electrons, an anode to discharge those electrons, and a cathode to receive them. The challenge for researchers is getting the lithium in the anode, which would create a more efficient and powerful cell.
"Lithium has major challenges that have made its use in anodes difficult. Many engineers had given up the search, but we found a way to protect the lithium from the problems that have plagued it for so long."-Guangyuan Zheng, first author of the paper.

"In practical terms, if we can improve the capacity of batteries to, say, four times today's, that would be exciting. You might be able to have cell phone with double or triple the battery life or an electric car with a range of 300 miles that cost only $25,000—competitive with an internal combustion engine getting 40 mpg."-Steven Chu, professor, Stanford
The protective nanoscopic carbon shield allows a higher percentage of lithium to be extracted from the anode compared to the amount that is put in to the anode when charging. Yes, it sounds like your high-school science class which is probably why your eyes glaze over when reading it. Let's just say that all of this research is pointing toward a huge increase in the battery life of your future smartphone.
source:
Nature
,
Phys.org
via
Engadget
Recommended Stories