The next Angry Birds game to have a medieval theme
11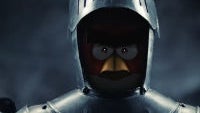 There are currently seven variations on the classic bird-flinging type of Angry Birds games, plus two games that feature the characters but offer different gameplay options. That's not even mentioning the multitude of branded items including tons of merch, candy, and cartoons. But, maybe you haven't quite gotten your fill of Angry Birds, and if not then Rovio has another game on the way for you.
Last month, we saw a
teaser
with absolutely no hints as to what to expect from the next Angry Birds game. The only thing it said was to expect a "big adventure". Now, we're seeing a new teaser that points to an Angry Birds game that will have a medieval theme. The teaser doesn't offer much else other than to say that the game will be "epic".
There's no idea when the new game will be released, but whenever that happens Rovio is saying that there will be a soft launch for the game. It will be released in Australia and Canada first before rolling out to other countries. We'll keep you posted on more info as it comes.