The new iPad: which feature do you like the most? (Poll results)
6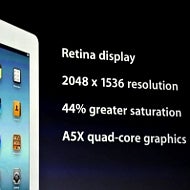 We ran a little poll the other day to check which feature of the
iPad 3
tickled your fancy the most, and here are the results.
Predictably almost 60% of you checked the gorgeous 2048x1536 pixels
Retina Display as the biggest innovation in the new iPad
, since that's a tablet screen that has yet to be beat by any current or upcoming slate in the foreseeable future.
The new A5X processor with quad-core graphics took
second place
with 20% of the votes, as it will probably turned out to be the most powerful graphics subsystem on a mobile device when all the benches are done and dusted. Granted, it likely excels the most at feeding that monster screen
pixel
density, rather than at complex shadings and such, so that's the area where it beats Tegra 3 4x as Apple quoted at the presentation, but still there will probably be months before the App Store gets populated with enough titles to take full advantage of all that graphics might.
Third place
went for the 4G LTE connectivity that made its way to the new iPad, making it the first Apple device supporting the fast wireless broadband tech. You still have to get different versions for AT&T and Verizon, though, optimized for the different frequencies their LTE networks operate on, and as for Europe - their LTE gets built on other frequencies, but the DC-HSDPA download speeds are higher there for that matter, so you'll still get more than enough bandwidth to waste your data cap in no time.
Fourth place
was taken by the Dictation feature for the new iPad that is powered by the renowned voice recognition technology of Siri, and even shares a similar icon with Apple's voice-controlled assistant, but here you can use it strictly for dictation purposes, saving you from having to type on that pesky on-screen keyboard.
Last in the list of new features you placed the 5MP camera capable of 1080p video recording, which is understandable, since rarely anyone takes a picture with their tablet if they have something more compact at their disposal.
What was interesting to see is that the 4G LTE connectivity is muddling along at the middle with only 13.46% of the people giving it a priority, meaning that we will probably again see the majority of new iPad sales going to the Wi-Fi versions.