The mysterious BlackBerry that never saw light?
This article contains unofficial information.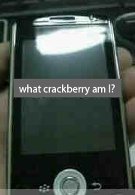 Every phone has its own beginning at the tall walled off confines of a beta testing facility, but not many are fortunate to complete its journey onto the shelves of retail outlets. Even yet, the public eye rarely sees any of these prototypes prancing around aimlessly by someone – one lone BlackBerry handset has managed to escape its premature death only to be looked at so intently. This particular prototype which had its photo taken makes it difficult to gather concrete information from it, but it's stated to sport a touch screen. Sure it has the formerly tried and true trackball that made its predecessors so popular – something that can't be said about some of the newest ones utilizing an optical trackpad. Many have hinted to a similar design scheme, with its alleged slider QWERTY form factor, that's been used over at HTC's camp. Still, the photo taken leaves a lot to imagine about this prototype handset. One thing is certain, people are eyeing RIM's next move to see what direction designers will take for the next big thing to come out of RIM's factories.
via
PocketBerry