The latest Chrome experiment: track an abandoned NASA satellite, lunar flyby on August 10th
3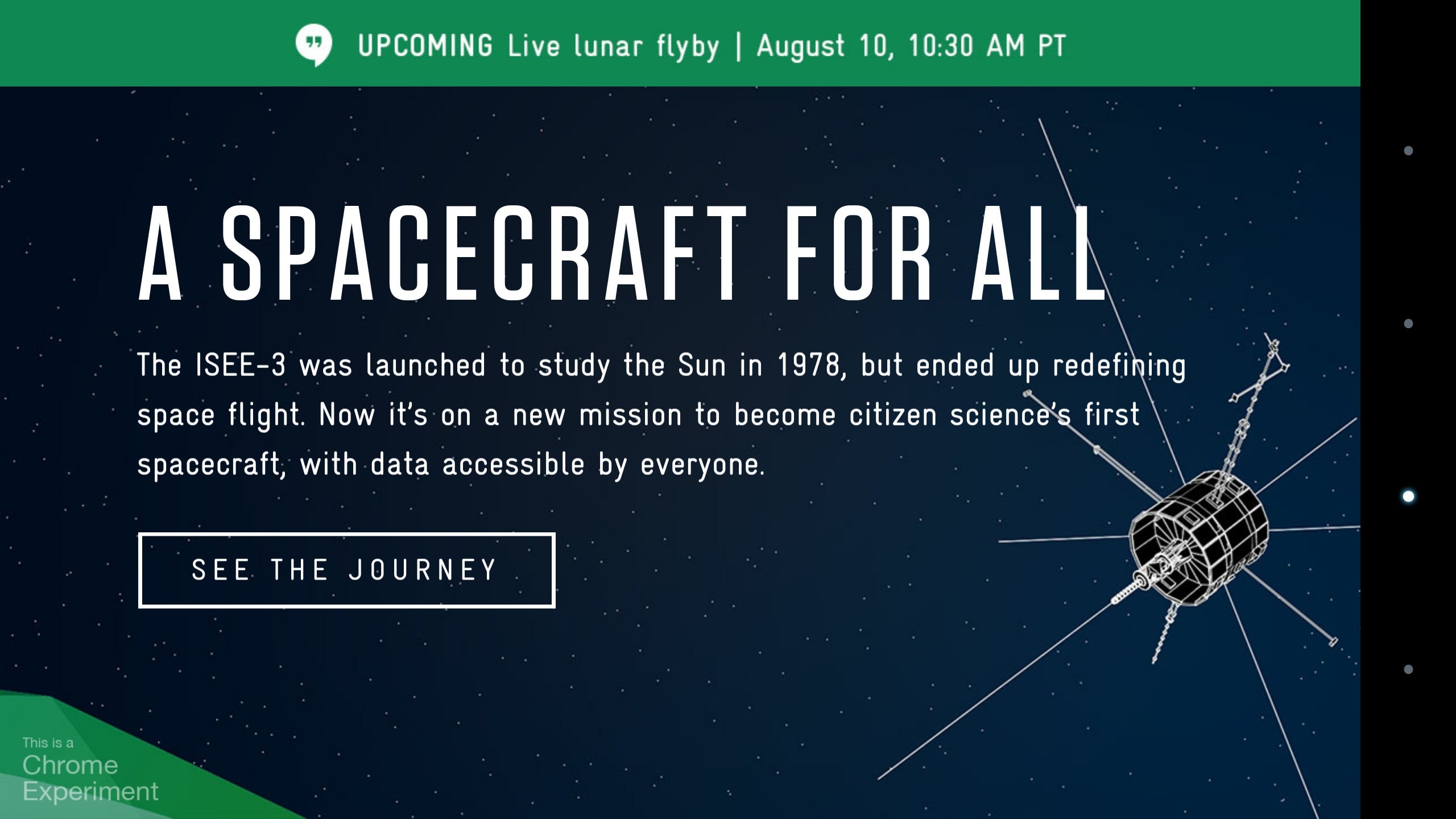 The year was 1978, the days of détente, bell-bottom jeans, and disco music. That year, NASA launched a satellite to study the sun. Called ISEE-3, the satellite performed its mission as expected and then was left with nothing to do.
Several years later, ISEE-3 was re-designated the International Cometary Explorer (ICE) and tasked with intercepting the Giacobini-Zinner comet, which it did in 1985.
NASA finally put ICE out to pasture in 1997 where it has wandered the solar neighborhood in a funky orbit around where it would not get in the way. As orbits go however, they eventually come around again and decades after being launched into space, ISEE-3 still had serviceable communications systems.
A group of citizen scientists set-up a crowdfunding project so they could more closely monitor ISEE-3 and hopefully gain control of its flight systems. The funding was a success, and with the money they commandeered a closed-down McDonald's at NASA's Ames Research Facility which is located at Moffett Airfield in the heart of Silicon Valley in California.
ISEE-3's flight path will be taking it by the moon tomorrow, and Google has teamed up to provide a highly interactive website in a new Chrome experiment. Dubbed "A Spacecraft for All," through the main site, you can get live telemetry and interface features that let you explore the satellite's path. The site works on Chrome for your Android device too, though it is optimized for mobile.
The full documentary video is available on the site for either your mobile device or main computer (as long as you are using Chrome). There is also a Google Hangout set up to take place at 10:30AM Pacific (1:30PM Eastern) on Sunday, August 10th to join the team as it tracks the lunar flyby. By that time, ISEE-3 will have about 30 billion miles on its odometer.
Check out the action via the source links below. It showcases some of the advanced features of the Chrome browser, so there is that angle, but for those that still think space is cool, learning about what is essentially a space-antique is pure awesomeness.
sources: A Space Craft for All (
main site
;
Google+
)