The international version of OnePlus X / Mini could be priced at $249
6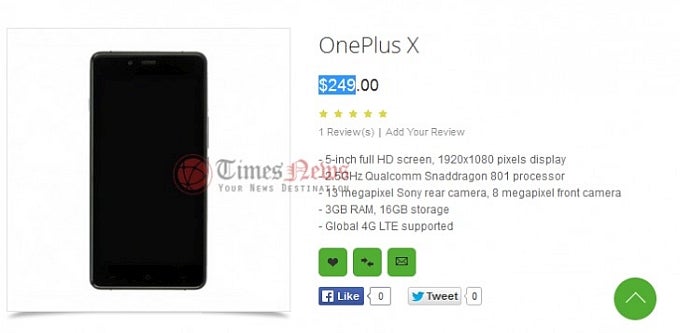 Another day, another OnePlus X / Mini leak! A couple of days ago, the smartphone's
specifications were revealed by China's TENAA
, and now it looks like OppoMart might have revealed the missing piece of the OnePlus X puzzle: the price.
According to a premature listing spotted on OppoMart, the OnePlus X - which will probably be known as the OnePlus Mini in some parts of the world - will be priced at $249. That's slightly higher than the handset's
rumored $220 price-tag for the Chinese market
, but some difference is to be expected. Note that OppoMart listed what appears to be the international variant of the phone with global 4G connectivity. Since the listing was spotted, it was removed by the retailer, but not before screenshots could be captured.
As expected, the specs detailed in the retailer's listing match those previously leaked by the TENAA, including here the Snapdragon 801 chipset, the 5-inch display with a resolution of 1080 by 1920 pixels, 3GB of RAM, 16GB of internal memory, a 13MP primary camera, and an 8MP secondary shooter.
We do have to note that OppoMart lists the Snapdragon 801 as running at 2.5GHz, while TENAA's specsheet said that the chip runs at 1.9GHz. 1.9GHz is an unusually low frequency for the quad-core CPU inside the Snapdragon 801, which would suggest that the chip was underclocked.
OppoMart's listing also mentions that the phone will come with a 2450mAh battery. This is a detail that the TENAA listing failed to reveal, but based on the phone's rather thin profile (6.9mm across the waist according to TENAA), this capacity is right about what we expected. OnePlus will reveal its third smartphone in the company's history
on October 29th
, meaning that we're not far away from learning the full details right from the horse's mouth.
What do you guys make of this? Is the OnePlus X / Mini worth $249 based on these unofficial specifications?