The cross-platform best note taking apps if you want to ditch Evernote
9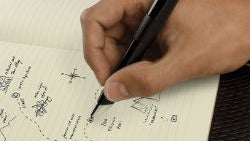 Evernote just announced that it is raising the prices of its premium tier plans, but the change that could annoy the most number of users is on the free Base plan which will now be limited to use on just two devices. In a world where one phone and one computer is the bare minimum, this could be a limit you can't live with, so we wanted to take a look at the best notes apps if you need to ditch Evernote.
Obviously, there are a lot of different things to take into account when looking for a note taking app. First off, it's helpful to know what kind of note taker you are and what device you're using. A note taking app on a tablet will likely rely more on handwritten notes than something on a phone. And, in that vein, finding the right app depends on if you write handwritten notes, type quick notes, or save audio clips that stand alone or if you're going to be taking notes on something like a PDF or webpage. Evernote has a big following because it can competently do any of those things reasonably well.
Lastly, what device(s) you have will make a difference. For those on iOS, Apple's built in Notes app may be all you ever need, while a Samsung user may not need anything more than the S Note app. And obviously, if you jump into the App Store or Google Play Store there will be hundreds, if not thousands, of other options for taking notes.
But for the purposes of this list we're looking at the best cross-platform options, because while you may be an avid iOS or Android user right now, you may want to hedge your bets and keep your notes in a place that can travel with you if you ever switch platforms or lose/break your phone.

The true Evernote replacement: Microsoft OneNote
If you need an app that can do everything that Evernote did -- type, hand write, draw, record voice notes, clip things from the web, etc -- while having access no matter what device you're using, Microsoft OneNote may be your best or only real option. Microsoft has OneNote apps for all major mobile platforms as well as a web app and syncing across all of them won't cost you anything. Unlike Evernote, Microsoft doesn't need to make money on OneNote with all of its other business ventures, so it is free unless you need the business features that would require an Office 365 account.
OneNote also has the somewhat ignominious claim of being the only real cross-platform notes option aside from Evernote for those few out there still using a Windows Phone as their primary smartphone device. We know there aren't many of you, but for those of you out there who have multiple devices and a Windows Phone as your primary smartphone, OneNote is probably the notes app for you (although you likely already knew that).
And, OneNote has a lot of more advanced features that you might not find in other free options, like collaborative notes, mixing media, and more. The question really becomes, do you need that many features?
The lighter option: Google Keep
Maybe OneNote is a bit too overwhelming for you, but you still want a multiplatform free option that can do a little of everything, even if it may not have quite all of the features that the big boys like OneNote and Evernote do. In that case, Google Keep might be your best option.
With Google Keep, you can type out notes, make lists, save pics, record audio notes (with transcriptions), draw something, and organize with tags and colors or have shared notes, but it won't have some of the more advanced formatting options and other bells and whistles. For example, you can save a website, but it only saves as the title and the link with the option to type some extra info. On the other hand, OneNote or Evernote have web clip features to save specific portions of websites, images and all.
Where Google Keep does have some extra niceties is (obviously) with its Google integration. If you want, you can easily transfer a Keep note to Google Docs to get some of those more advanced formatting options and more. Also, you can set reminders based on time or place and that reminder will integrate with Google Now to give you better notifications wherever you are.
It can't do everything, but maybe it can do enough to be worth your time.
The minimalist option: Simplenote
Then again, maybe you don't need all of those crazy options like audio notes, images, handwriting, or even proper check boxes for your lists. Maybe all you really need to do is write and save plain text notes, but you really want to do it anywhere on any device -- Android, iOS, Windows, Mac, Kindle Fire, or even Linux -- and have desktop apps, not a web app to go across non-mobile platforms.
Of course, minimalism doesn't mean a complete lack of features. Simplenote can make lists (just no check boxes); it has a night mode; it offers tags, pins, and search for organization; and, it allows you to share and collaborate on notes with others.
If you really want to boil it down to the bare essentials of just text notes, Simplenote might be the option for you.
The honorable mentions
Beyond those options, the quality of the cross-platform app options takes a bit of a dip and it also gets more difficult because other apps try to straddle the line between note-taking and to-do lists and tend to fall a bit more on the to-do list side of things.
Fetchnotes
is an okay option with nice hashtag organization and @mentions, but its future is uncertain. The
Play Store
listing notes that there is no Android developer on staff and the Android version hasn't been updated since January 2014, but even the
iOS version
hasn't been updated since October 2014. The app had been purchased and slated for termination, but the original founders
announced
they had bought it back in February 2016 and were planning on reviving it. No updates have been announced since then though a sustainable plan is expected by mid August. If you like Fetchnotes, it might be best to see what its future will bring before fully committing.
WorkFlowy
is an extremely interesting option because it is a very different take on this sort of app. At its core, WorkFlowy is an organization app, but because of its relatively open structure, it can be used for anything from notes to to-do lists to mind-maps and more. The basic idea is to replicate how your brain works, with nothing more than infinitely nested lists. WorkFlowy also gets a bump because it come recommended by certified tech genius, Ev Williams.
The downside to WorkFlowy is that the app works far better with a keyboard and mouse setup than as a touchscreen app. So, if you take a liking to WorkFlowy, it might be better to start with the web app to create your structure and then just use the mobile app for reference and quick notes. Unfortunately, even if you have a Bluetooth keyboard for your mobile device, WorkFlowy doesn't work the same as the web app.