The Weather Network shows off its BlackBerry 10 app
16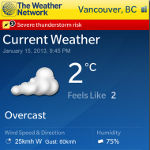 RIM CEO Thorsten Heins said that size didn't matter
, we hoped for his sake that he was referring to BlackBerry World and not making some kind of phallic statement. Potential BlackBerry 10 buyers have been concerned that the revamped app store would not have many of the apps that they are used to using on another platform. Heins said that BlackBerry World would have
200 to 400 of the top apps
in each region. If you are accustomed to using the Weather Network on your phone, but you're worried that the app won't be available for BlackBerry 10, better think again. Not only will the Weather Network be offered in BlackBerry World, it also will have a ton of features that will satisfy even the most weather obsessed users.
The new Weather Network app for BlackBerry 10 will use the phone's GPS to produce a local forecast for your current location within 1 kilometer of where you are standing. A peek feature lets you quickly switch from watching information about a damaging storm to your local forecast with ease. BlackBerry 10 users will be to upload weather related photos
directly to The Weather Network
. Forecasts include current, short-term, long-term (day and night), 14 day trend (day and night) and hourly forecasts for user's favorite locations and multiple locations can be tracked. Weather alerts and safety bulletins (think tornado alerts) will be sent straight to BlackBerry 10 handsets and the app can be shared with friends using BBM.
"As a Canadian leader in mobile app development, The Weather Network is delighted to launch the first major weather information app for BlackBerry 10. The team has worked closely with RIM to develop a unique and interactive app that will provide BlackBerry 10 users in Canada, the U.S. and beyond with the most up-to-date weather information direct to their new devices."-Gita Ashar, The Weather Network
source: TheWeatherNetwork via
BerryReview