The Sony Ericsson XPERIA X3 will be officially announced on 3 November?
4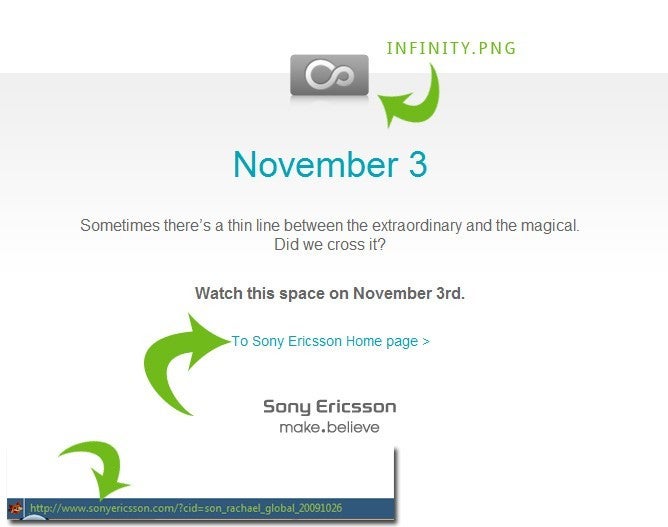 Sony Ericsson
has launched a
website
that tells us the company is going to announce something on 3 November. Aside from all the standard ad hype and catch words aimed at making us eagerly looking forward to the date, the page contains a link leading to the home page of the manufacturer´s website that in turn, mentions the cherished word "
Rachael
". Perhaps Sony Ericsson will finally announce their first Android-based handset that we´ve come to call the "many-named", so far we´ve heard several it will roll out as the Rachael, XPERIA X3, XPERIA X10 and now Infinity. The above mentioned website is to blamed for the latest nickname, because that´s the word in the picture with the manufacturer´s logo in it. This, of course, caused quite a few tongues to wag and some blogs dedicated to Android news started the rumor that would be the real name of the much-anticipated device. We just hope the codename hasn´t to do with the amount of time until the official release of the cell phone.
A low-quality video showing a leaflet of the Sony Ericsson XPERIA X3 got leaked on the Internet earlier today. The advertising material provides insight on hardware specifications that, save one, we are pretty well aware of - 1GHz processor, 8-megapixel camera, 4.1-inch OLED display, 32GB built-in memory. What´s brand new, however, is the caption saying "1080p Full HD". Now, if the handset allows video capture at such a resolution... well, that´s news indeed, because if this is true, the Sony Ericsson XPERIA X3 will be the most capable cell phone in terms of video capture ever.