The PSP phone is going to end up being a knockoff?
This article contains unofficial information.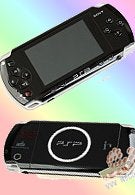 Gamers are still waiting for the day when or if Sony Ericsson will ever make the reality of having a PSP phone come true. Some people might argue that the cross platform would make for some inferior product, but one Chinese company is on the verge of actually making a working PSP phone. A Shanzhai PSP phone is allegedly coming soon from China and will look similar to the first generation Sony PSP portable gaming console – it's made evident with the Call & End keys and a camera that's found on the back. Although there are no specifics surrounding its specifications, it's speculated that it uses a MTK (MediaTek) platform which might feature Bluetooth, Wi-Fi, and possibly dual-SIM capabilities. Even with a possible launch by some Chinese based company, one must wonder at how well it'll even stack up against the actual console – but this is probably the closest thing you'll get to one for now.
via
Unwired View