The Moto Z is the thinnest mainstream flagship on the planet
21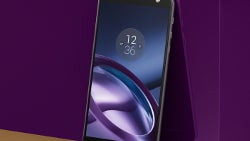 After a year or two of smartphone makers trying to outdo each other with increasingly thin flagships, it seemed like the craze was over at about the 0.27-inch (7 mm) mark. Both the Apple iPhone 6s and the Samsung Galaxy S7 grew the waistline. But if you thought that'd be it, the new Moto Z by Moto
rola
bests them both—and indeed any relevant flagship on the planet—and not by little.
At just 0.2 inches (5.19 mm), the Moto Z is shockingly slim. To give you an example, that's equal to stacking less than 3 and a half pennies on top of each other. Shockingly thin, once again.
Better yet, at least in terms of hardware, the Moto Z won't be a compromised smartphone. The phone comes with a 5.5-inch, Quad HD (1440 x 2560) AMOLED display powered by a quad-core Qualcomm Snapdragon 820 processor and 4GB of RAM. On the camera front, we're looking at a 13-megapixel main camera with very wide,
f
/1.8 aperture lens, dual LED flash, laser auto focus, and optical stabilization. Keeping the fun going is a 2,600 mAh cell with quick charging.
So, the Moto Z, scheduled to also appear on Verizon's network under the DROID moniker, is freakishly skinny. But in the context of the oft-rumored—and now official—MotoMods that either add style or extra functionality to the Moto Z, this engineering decision kind of makes sense. Seeing as how most of the MotoMods attachments shown on scene were on the bulky side, at least the Z's thinness can be of actual use. As for whether it'll impact performance in any way whatsoever, it remains to be seen.
Recommended Stories