The Moto G will launch with Android 4.4 in the U.S.
7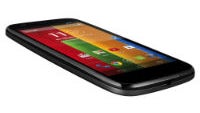 When Motorola first announced the Moto G, it was very clear that while the Moto G was launching with Android 4.3, it promised the device would get the update to Android 4.4 in January. Later on in the announcement, Motorola noted that while the device would be released right away in some regions, it wouldn't be released in the U.S. until January.
That at least gave us the idea to hope that when the device launched in the U.S., it might come preloaded with Android 4.4 KitKat, but we couldn't be sure. Now, we can be sure because Motorola has confirmed it. Motorola SVP Mark Randall told
Omio
recently, "Wave 2, products that we ship after Christmas, will start with KitKat [...] Wave 2 is in the US; there's South East Asia, and other countries."
Wave 1 was the initial release of the device that happened two days ago along with the announcement. That meant the device was released in Brazil and some European markets. Wave 2 happens in January and includes North America, Asia, and more European countries.