The Meizu MX4 Pro to come with 4GB RAM and 32-Bit octa-core processor?
16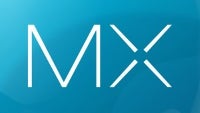 An alleged spec sheet of the upcoming Meizu Mx4 Pro has leaked on Weibo, portraying a heart-pounding, but somewhat mistaken set of internals. It says the smartphone has a whopping 4GB of RAM, yet the CPU is listed as a 32-Bit octa-core Cortex-A17/A15 configuration. What happens to the 3GB barrier in this case? Apparently, there's already a device with the same configuration on the market, the Tronsmart Orion R28 set-top box, and the thing does have 4GB RAM. Basically, the processor supports "Large Physical Address Extension", a technology that lets it access more physical memory.
However, the processor specs respond to the Samsung Exynos 5430, which is a Cortex-A15/A7 based processor. You are much more likely to spot an octa-core big.LITTLE ARM V7A processor that's configured like that, instead of having an A17 core. So it could be that the spec sheet contains a typo.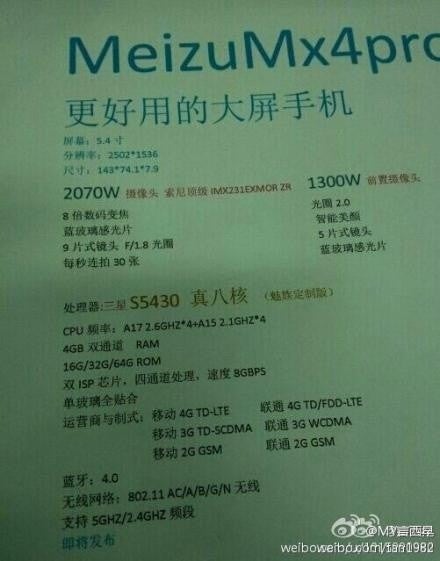 That mystery aside, the MX 4 Pro comes packing a 5.4-inch screen with a 2560 x 1536 resolution. This is close to the WQXGA resolution (2560 x 1600). Meanwhile, the cameras on this phone are top-notch. The front camera is a 13MP unit, and the rear cam is a 20.7MP one. The phone will be available in 16, 32, and 64GB variants. We also have its dimensions , and they sound compact for a big-screen device - 5.62 x 2.9 x 0.31 inches (143 x 74.1 x 7.9mm). For reference, this is close to the LG G3's 5.76 x 2.94 x 0.35 inches (146.3 x 74.6 x 8.9 mm).
While we're yet to see how the amped-up Meizu MX 4 looks in reality, there's no doubt we're looking at a powerhouse of a smartphone. The launch shouldn't be far off, although getting it from China won't be much of a pleasure to those that don't like importing.
via
iGeek