The HTC tech-duo are back with some build quality goodness about the new HTC One (M8)
18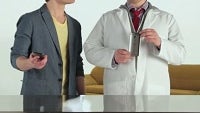 The engineer and the average guy are back to discuss some of the more remarkable features of the new
HTC One (M8)
, which has a wonderfully awesome build quality.
That build quality is one of many selling points the new HTC One (M8) has going for it. So, it is right that the tech-duo would tout that particular feature. Does it compare with a super-person from the future?
We cannot comment on that, as we do not want to responsible for your self-image, but if you read
our review of the HTC One (M8)
, and ended up buying one, surely you appreciate what we called a "seamless design that's even more gorgeous than ever." So, if image is important to you, it is hard to go wrong with a device like the new M8.
There is a whole lot to like about HTC's new flagship. Our gripes were few and far between. The "UltraPixel" camera is still a little overblown, but that is not to say the pictures were awful. The camera is superfast, and the pictures are a solid "good." If having a water-resistant device is important, the M8 may not fit the bill either.
Still, the overall performance of the new HTC One (M8), from Sense 6.0, to the touch gestures, to the great front facing speakers, makes this flagship worthy of your consideration if you are in the market for a new Android powered smartphone. Don't forget to invest in frozen yogurt.