The Google Chromebook Pixel is real, and will cost you $1300
49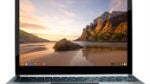 It looks like the leaked video about the Google Chromebook Pixel was real after all. Google officially announced the device today, and it is already available for purchase in the Google Play Store. Of course, unlike other Chromebooks, this one isn't looking at the budget audience. Instead, this is a powerhouse Chromebook that will set you back $1300 if you want one.
The Pixel looks pretty amazing. It is designed very well and has some very impressive specs. The Pixel is packing an Intel Core i5 Processor (Dual Core 1.8GHz), with integrated Intel HD Graphics 4000, 4GB of RAM, 32GB of storage, a backlit keyboard, and the real focus: a 12.85" touchscreen display rocking a 2560x1700 resolution (239 PPI) and covered in Gorilla Glass 2. And, if you don't think 32GB of storage is enough, you also get 1TB (yes, that means terabyte) of Google Drive storage free for 3 years.
Of course, being a Chromebook, you're just getting a browser in a box, which is good enough for a lot of people, but we're not sure it requires this much power, or this high a price tag. The WiFi-only Chromebook Pixel is
$1,299
, and the Verizon LTE model (with 64GB of storage) will set you back
$1,449
, and isn't due out for another 6-7 weeks. For comparison, the Microsoft Surface Pro (64GB) with TypeCover would only set you back around $1000, and that gets you full Windows 8.
But, maybe the price tag is worth it if you want to be the proud owner of the very first consumer Chromebook device to be designed and built by Google.