The Gear VR successor's technology revealed, includes eye tracking and hand recognition
6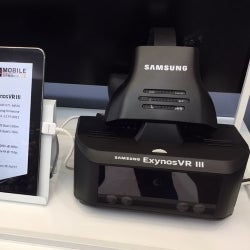 Thanks to Korean firm Visual Camp, we get our first glimpse at a reference variant of the Samsung Exynos VR III head-mounted display – a standalone unit with built-in displays that connects to a smartphone through the USB port. This is considerably more sophisticated technology than the
Samsung Gear
VR, which requires mounting the entire smartphone in the headset's front.
Visual Camp boasted about having their eye tracking technology integrated in Samsung's HMD. The system is designed to sharpen the resolution of the part of the display being viewed by the user's eyes, while reducing the resolution of other parts. This supposedly helps with immersion. Additionally, the HMD features hand tracking, voice recognition, and facial analysis technologies. It's powered by the Exynos 8890 chip that runs in the
Samsung Galaxy S7
and
S7 edge
.
With Samsung having a new reference platform for VR and eye tracking, it's only a matter of time before the technology reaches the mass market. But someone also needs to produce the content to give this technology meaning. That, too, is a question of time.
ALSO READ