The Galaxy Note 4 announcement, possible iPhone 6 unveiling date, and newest Galaxy Alpha rumors: Weekly news round-up
17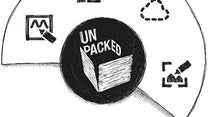 There's an upcoming Samsung smartphone that millions are excited about – the Galaxy Note 4. And it is coming soon. Like, really soon – its announcement is going to take place in Berlin in less than a month. How do we know? Well, invitations to a Samsung Unpacked event have started to emerge, and from the looks of it, the Samsung Galaxy Note 4 will be the star of the show.
But this isn't the only Samsung phone that we're looking forward to reviewing. The Galaxy Alpha is also a smartphone worthy of attention, or at least that's what we're inclined to believe given all the leaks that have accumulated. Last week, a bunch of photos revealing the phone from all angles surfaced on the web, and it looks like the Galaxy Alpha will be a keeper.
In Apple-related news, we now think that we know when the rumored iPhone 6 is going to be unveiled. It has been said that Apple has an event scheduled for September 9, and it will be dedicated to the latest iteration of the company's new handset.
For more exciting news from last week, take a look at the slideshow below.