The European Commission: We might ban the iPhone in Europe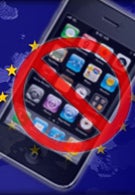 The European Commission has launched an official investigation into the alleged explosions of Apple-made handsets earlier this year and demanded explanation. So far, there are three reported cases of iPhone devices going off, in the UK, France and Germany respectively. Mrs. Meglena Kuneva, European Commissioner for consumers and their rights stated that extensive tests are under way at the moment and even if a single country proves the iPhone might be of any danger for EU citizens, the handset will be banned from the EU market. Of course, such a harsh measure will be enforced only in case the hazardous nature of the iPhone has been proved beyond the shadow of a doubt.
Apple has not responded to the EU threat, but we hope the company comes forth with an official statement that addresses the issue, because we figure the news must be rather distressing for the Cupertino-based manufacturer. The European Union is by no means a market that can be disregarded and a possible European ban may spell the end of the all-winning device, especially if other countries follow suit in case the iPhone proved dangerous.