The Copenhagen Wheel connects your bicycle to your smartphone, and gives you a real boost
4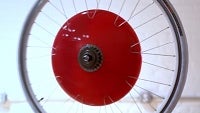 Engineered at MIT, the Copenhagen Wheel is the product of a venture backed company called Superpedestrian, and is a solution that is sure to be a hit with folks that live in the city.
The initial pre-order run of 1,000 wheels sold out in no time, even priced at $700 each. Now, Superpedestrian is getting ready for full commercial availability this summer. The expected retail for the Copenhagen Wheel is $799.
The Copenhagen Wheel connects to your smartphone via Bluetooth 4.0 and the accompanying iOS or Android app allows you to adjust settings in how the wheel performs and directs how it would provide assistance up hills or through traffic.
The app also allows you to lock the wheel, which will aid in keeping people from riding off with your bike, though keep a chain and lock handy. The batteries are charged through braking and regenerative actions, like back pedaling or going down a hill.
The 350 watt motor is good for up to 20 miles per hour and the whole thing weighs just 13 pounds. Managing the show is your smartphone and it does not necessarily require you to replace your whole bicycle to use it.
source:
CNN Money