The BlackBerry Priv has just received a number of notable software updates
21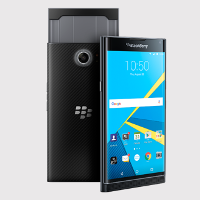 The
BlackBerry Priv
was already a solid Android smartphone, but the manufacturer has just pushed a number of stock app updates that give the phone even more punch. The keyboard app, the camera app, and the launcher have all been updated to include some notable improvements.
Starting off with what's probably the most important update, the keyboard app now comes with an even smarter prediction engine that can scan through the email and message history to uncover commonly used words. Also, the stock keyboard app will also suggest names from the contact list. Since the BlackBerry Priv comes with a physical keyboard, it only makes sense for BlackBerry to want to improve on the typing experience.
Moving on to another notable update, the BlackBerry Priv camera app has been updated to support slow-motion video recording. When activated, the slow motion mode will capture videos at 120 frames per second. When played back at the usual frame rate of 30 frames per second, the objects in the frame will move at a quarter of their usual speeds. Most other premium smartphones come with a slow-mo video capture mode, and it's nice to see that BlackBerry has brought the Priv up to par with its competitors. Furthermore, BlackBerry's updated camera app includes a performance and stability fixes.
Last but definitely not least, the BlackBerry Priv launcher has been updated to receive some clever new features. Apps installed on an SD card will still show up in the launcher even when the card is removed, but with a grayed out icon. Also, the launcher will now organize apps in Recent, Personal, and Work categories.
If you're eager to test how the Priv performs with the new updates, head on over to the source links below and update the stock apps.