The BlackBerry Priv features a Productivity Edge (thanks to its curved display)
81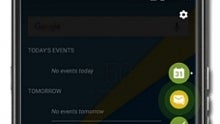 While you can already pre-order the BlackBerryPriv (the very first BlackBerry smartphone to run Android), the handset is notyet ready to ship: you'll only get it starting November 6. Until then, in caseyou wanted to try out the new device, an online simulator was temporarilyavailable thanks to Telus - one of the carriers that will sell the Priv in Canada. Thesimulator is now offline, but various images from it are still available on theinternet.


One of the most interesting thingsthat the Priv simulator reveals is that the handset comes with what BlackBerryis calling a "Productivity Edge." As you may know, the new devicesports a 5.4-inch AMOLED display (with 1440 x 2560 pixels) that's curved on thesides - just like the screens of Samsung's Galaxy S6 edge and S6 edge+. Well,the Productivity Edge features takes advantage of the dual curve design byletting you take a peek at your notifications, messages, calendar and so on -with a simple swipe. You can set up Productivity Edge to work on either side ofthe screen (right, or left). Moreover, it looks like the curved edge of thedisplay can act as a charging bar when the Priv is plugged in.
Curved screen aside, the Priv alsofeatures stuff like a sliding QWERTY keyboard, a six-core Snapdragon 808processor, 3 GB of RAM, 18 MP rear camera with optical image stabilization, 32GB of expandable storage space, and a 3410 mAh battery. All in all, we'rereally looking forward to testing the BlackBerry Priv. What about you?
via: CrackBerry forums