Thanks, but our princess is in another museum – Louvre replaces guides with 3DS – tablet and smartphone content on the way
2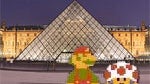 The Louvre is the most visited museum in the world and now they are in the midst of a major digital overhaul. After a recent website redesign to make it "more welcoming," the Louvre is taking the next step by replacing audio-guides with Nintendo 3DS pocket consoles.
The transition is set to begin in March with 5,000 units courtesy of Nintendo. Nintendo has developed specialized content for the glasses-free 3D, touch screen device that allows visitors to locate themselves within the Louvre, choose themed itineraries, and listen to recorded commentaries about the works on display. Museum officials believe that this approach will be more appealing to people who play video games at home and those who are accustomed to and enjoy using touch screen enabled devices.
In the coming months, the Louvre is planning on releasing updated smartphone and new iPad applications that will allow mobile users to download paid content for their visit.
The Louvre's director Henri Loyrette said in a press conference, "
Digital development has become a strategic issue for museums. People's habits have changed. But that offers us a huge opportunity to extend the museum's territory, and build a lasting relationship with our visitors.
"
The Louvre is the first museum in the world to attempt something like this. It is very exciting to see mobile technology being used to augment the experience at traditional venues such as museums, as well as the possibility of Nintendo's struggling gaming device being repurposed for uses similar to a tablet. We look forward to seeing the rest of the Louvre's digital developments.
source:
AFP
via
PCMag
Recommended Stories