Teaser time: HTC's next smartphone to have a 13MP camera, OIS, and capture RAW images
18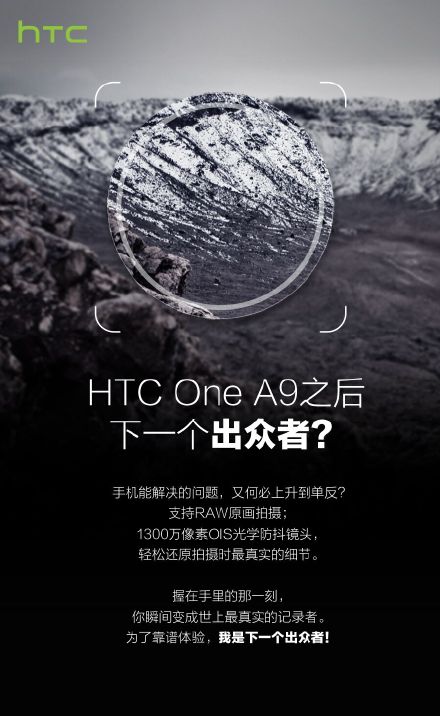 HTC teases its next smartphone, possibly the One X9
So, what does HTC have in store for us after the One A9, which
we actually liked
? If we're judging by the brand new teaser image that the Taiwan-based phone slinger posted on Weibo, the perfect follow-up to the One A9 will be a brand new handset with a 13MP rear camera and optical image stabilization that shoots in RAW, which is similar to what the
HTC One A9
offers.
That's right, the once-dominant Android smartphone maker that bravely faced a number of hardships in the past year or so is seemingly prepping itself to launch a new handset, and we think we know which one that might be. Recently, we've been hearing lots of rumors that HTC is prepping itself to release a new mid-range device, which will reportedly be called the One X9.
The device already
starred in a handful of leaked pictures
and also got certified by
China's TENAA
certification center, which revealed the most important bits of the phone's specs sheet. In particular, the leaked information about the rumored 13MP camera of the One X9 falls perfectly in line with HTC's teaser image.
As far as the rest of the One X9's specs are concerned, we are almost sure that it will boast a 5.5-inch 1080p display, while a 2.2GHz octa-core chipset and 2 gigs of RAM will be responsible for the raw horsepower. The device will have measly 16GB of native storage, but a microSD card slot will be saving the day. As we already mentioned, a 13MP camera will be making the rounds at the back, while a 5-megapixel selfie shooter will adorn the front of the handset. Software-wise, the rumor mill puts the long-in-the-tooth Android 5.0.2 in charge.
This amount of leaks and rumors usually indicates that the announcement of the handset in question is almost imminent, and it seems that this will be the case with the One X9. Still, the fact that HTC's teaser was in Chinese and got posted on Weibo might be a dead giveaway that the HTC One X9 will be bound for the Chinese market. Regardless, would you get if it's available in a store near you?