Tapet is an app that comes up with Nexus-style chequered pattern wallpapers on the spot
5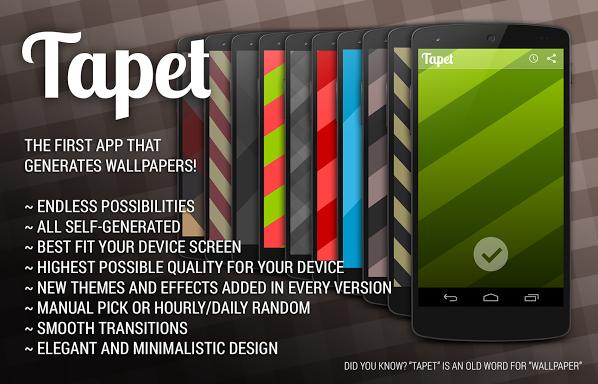 | | |
| --- | --- |
| Developer: SharpRegion | Download: Android |
| Genre: Personalisation | Price: Free |
The dilemma of choosing a smartphone or tablet wallpaper is one of modern civilized life's cruelest burdens. We're being playfully sarcastic, of course, but there have been countless times where we've stumbled upon the best background image for our phone ever... only to have grown tired of it by the next day, seeking another. Thankfully, there are plenty of apps that serve you new wallpapers on a silver platter every day, like clockwork. They are a great solution, and also one that gets taken a step further by apps such as Tapet.
Tapet, a word for an actual "wallpaper" that's still in use in some European countries, is a generator, not a downloader or curator. This means it uses an insignificant amount of your device's resources, along with math wizardry, to come up with original wallpapers on the spot. The randomly-calculated end result is very similar to the stock Nexus 5 wallpaper spirit, which translates to muted colors and chequered patterns. Some find this drab, while some think of it as intriguing. It's your call!
Anyway, Tapet has other stuff to show, too. The patterns are generated according to your device's resolution, thus they are always of the best possible quality. There's even a little bit of a parallax effect going, along with blur and saturation, to make those patterns really stand out. But mind you, Tapet isn't a live-wallpaper app - it just does some math from time to time, draws a cool wallpaper on your display, and goes back to sleep. So don't worry about your RAM and processor resources going AWOL.
Tapet can be set to generate wallpapers anywhere between every 15 minutes, or once a week. You can also intervene by simply swiping left, right, and down to get a new randomly-created wallpaper. Now, if only we could get the same seamless service for the walls in our apartments...
The best of all? Tapet is completely free, and works exactly as advertised. Thanks to its original approach, it's one of the best wallpaper apps available right now. Although chequered backgrounds can grow old pretty quickly, the ability of having them generated by your phone or tab is quite entertaining.