Tablet sales take it on the chin during the first quarter of 2014
28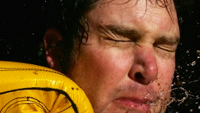 A report issued Wednesday by NPD reveals that for the first time ever, tablet sales are declining. For the first quarter of this year, tablet shipments were 56.3 million units. That is a decline from the 59 million slates that were shipped during the year ago quarter. Some analysts blame the 2013 holiday shopping season, which took the demand for Q1 2014, and moved it back to the fourth quarter of 2013.
Among the big names that shipped fewer tablets in the 2014 quarter are Apple, Google and Amazon. Apple shipped 16.1% fewer iPads in the period, while Google's decline was 44.6%. Amazon shipped 52.8% fewer tablets year-over-year. Among the big winners, Lenovo saw its tablet shipments increase over 14 times. Asus had a 24.9% improvement in tablet shipments for the three month period.
Besides having potential sales moved to the third quarter of 2013, some analysts blame the decline in tablet sales on the bigger screened smartphones that are now available. For example, the
Sony Xperia Z Ultra
features a 6.44 inch screen which is close to the 7 inch tablets offered by some manufacturers.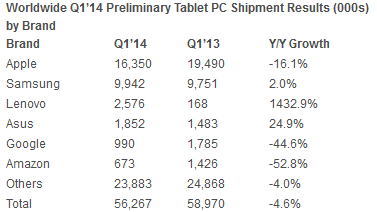 Leading tablet producers had a rough first quarter in 2014
source:
NPD
via
DailyMobile