T-Mobile rescinds fee for paper statements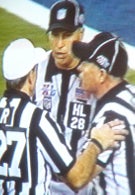 Last month, T-Mobile announced that it would start charging a fee to customers who wanted a hard copy of their monthly statement. This was a way to get many accounts to agree to paperless billing. Well, after further review (it is opening weekend for the NFL after all), the ruling on the field has been reversed. Figuring out that not every customer with a cellphone has or can afford to have a computer, especially after shelling out for the TP2, T-Mobile has rescinded the fee and we can see the smile on the faces of the lumberjacks.
The nation's fourth largest carrier couldn't just change their mind without getting in a few self-serving words edgewise: "Since the announcement, we've heard everything from kudos to concerns about the move to paperless-especially from our customers who today are receiving paper bills at no charge. So we've decided to not charge our customers a paper bill fee for now. Instead, we'll be taking more time to determine the fairest way possible to encourage people to go paperless." We could suggest that instead of a fee for getting a paper statement, how about a discount for those who go paperless? Instead of penalizing those still getting a monthly bill in the mailbox, it would reward those who have changed with the times. While it sounds almost like the same thing as the original proposal, there is a big difference. Think about it.
source:
T-MobileForums
via
BGR