T-Mobile may be transitioning 1900 band to HSPA+
16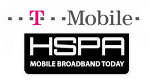 T-Mobile may not have a set plan for moving its network to LTE, especially now that
AT&T has given up plans
to buy the company, but it has been working very hard to build out its HSPA+ network to rival LTE speeds, and now there are indications that T-Mobile may be shifting its 1900 band to that purpose.
There have been some reports that users with unlocked iPhones running on T-Mobile have been picking up 3G coverage in some areas. The thing is that T-Mobile's traditional 3G band (1700 Mhz AWS) doesn't exist in the iPhone radio. The theory is that T-Mobile has been transitioning its 1900 Mhz band, which it uses for 2G coverage, to build up the HSPA+ network.
This could be part of T-Mobile's strategy to push its HSPA+ network past the current 42 Mbps speeds into the 84 Mbps territory. LTE or not, that's some fast (theoretical) speeds.
source:
Howard Forums
via
TMo News