T-Mobile dealers concerned about life after AT&T deal
11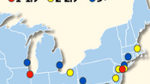 The Wall Street Journal did a little digging and found out that many independent T-Mobile dealers have something to worry about if the merger with AT&T goes through. The latter has said that some of the savings they expect to have after the deal closes will come from
closing stores
and rationalizing advertising and back office personnel. That goes with the territory after any merger, and while AT&T has said that it looks forward to working with T-Mobile's independent dealers "
in a manner that is mutually beneficial
", a realistic look at the situation shows that
many T-Mobile stores are near an AT&T location
.
According to the WSJ, AT&T and T-Mobile together operate 9,200 stores and
41% of AT&T locations are within 1 mile or less of a T-Mobile location
. The West is where the worst congestion is, especially in cities like Denver, Salt Lake City, Phoenix, Las Vegas and Los Angeles. That information comes from real-estate firm CoStar Group, paid by the WSJ to research the locations of both carriers.
Despite the merger, T-Mobile is still planning on
adding
over 200 independently run stores
this year, and to help those dealers, the company is paying the leases on some of the locations to help the independent owner alleviate some of the risk. Overall, T-Mobile has 2,000 company owned stores and 1,100 independently run locations. AT&T has 2,300 company owned stores and 3,800 independent ones.
Different parameters will determine which stores will be closed or contracted. Todd Heiner owns 80 T-Mobile stores through his Express Locations LLC, and thinks he has a better shot at keeping his locations as opposed to someone running 5 stores. Obviously, though, a store's
performance
is of utmost interest. Doug Chartier, T-Mobile's senior vice present for nation accounts and business sales, says that if the deal closes, AT&T is going to look at the portfolio of T-Mobile locations and ask, "
...what are the ones with the highest returns and the highest value?
"
Whatever AT&T decides, you know that for third party owners of T-Mobile locations, it is not going to be pretty.
source:
WSJ
(Sub. Rqd) via
TmoNews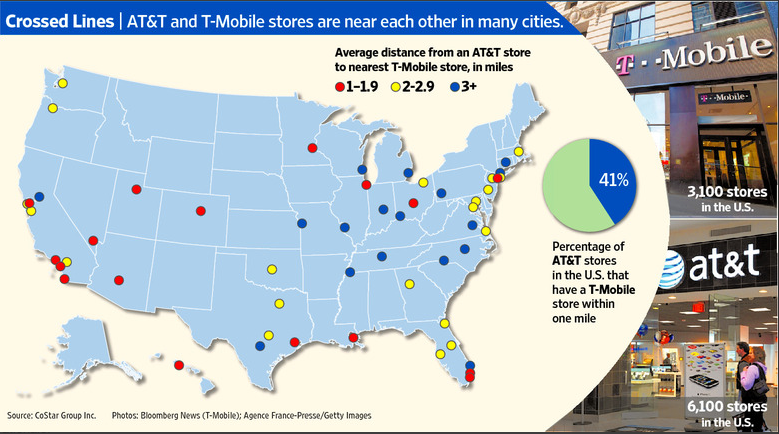 41% of AT&T stores have a T-Mobile location within 1 mile away