T-Mobile business customers can get the BlackBerry Bold 9700?
This article contains unofficial information.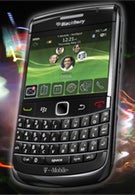 BerryReview reports that T-Mobile has made the BlackBerry Bold 9700 available to business customers. As of today, the successor to the Bold 9000 can be ordered via local retailers of the carrier. Some of the comments at the source website indicate that this is true indeed, although the offer looks valid for new subscribers only, i.e. you don´t have not a chance of ugrading your current handset at this time.
"This Holiday, T-Mobile is scheduled to launch the first 3G BlackBerry with Wi-Fi calling, the BlackBerry Bold 9700, on November 16. The Bold 9700 launched on November 9 in the Business channel only."
BlackBerry Bold 9700 Specifications
(T-Mobile) |
Review
source:
BerryReview
,
Intomobile