T-Mobile ad attacks AT&T for having slow pipes
78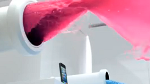 T-Mobile has been using AT&T as a
whipping boy
in the carrier's new ads. You might have seen the Frankenstein monster spot or the commercial with the man encased in ice. Now T-Mobile has produced a commercial that shows a visual representation of a carrier's network that is sure to stick in the mind of
Apple iPhone 5
users, who are the target of the ad.
The spot shows two large pipes. One, labeled with the T-Mobile insignia, is gushing out a magenta colored substance that represents data. The other pipe shows a blue liquid barely trickling out while the voice over announcer talks about
overcrowded networks
slowing down the delivery of data. The bottom line? T-Mobile says that its network offers 50% more bandwidth than other carriers, allowing data to flow freely through its pipeline, allowing the Apple iPhone 5 to be used with its full potential. And while AT&T is not mentioned by name, there is no mistaking T-Mobile's choice of using a blue color for the slow moving data dripping out of the other pipe.
We bet you will never look at your toilet in the same way.
source:
T-Mobile
via
TmoNews