T-Mobile COO: "Make no mistake about it: We would love to carry the iPhone"
40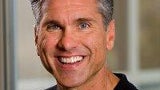 T-Mobile USA's Chief Operations Officer, Jim Alling, has stated that their company would love to carry the iPhone, but not if that means that T-Mobile has to make certain sacrifices.
The executive has been discussing the topic at the Morgan Stanley 12th Annual Technology, Media & Telecoms Conference, taking place in Barcelona. Interestingly, Mr. Alling has said that T-Mobile isn't willing to sign a deal similar to the one that a competitor of theirs recently signed. It doesn't take a genius to realize that he was talking about Sprint. The thing is that signing a deal with Apple to carry the iPhone is a tremendous investment with an uncertain outcome. Sprint, however, took a leap of faith and is now hoping that the iPhone will pay off at some point in the future.
When it comes to T-Mobile, Jim Alling's exact words are:
Make no mistake about it: We would love to carry the iPhone. However, we want the economies to be right for us.
It seems that for the time being, T-Mobile will be focusing on improving its HSPA+ network, which is currently home to some 1.5 million iPhones, with hopes that this number will rise. Still, the fourth-largest carrier in the States has acknowledged that the launch of the LTE-powered iPhone 5 has had a largely unpleasant impact on T-Mobile's bottom line for the end of this year.
via
TmoNews