T-Mobile 3G and AT&T 4G take the speed crowns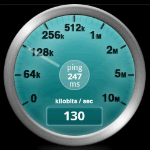 PCWorld has done its yearly testing of US wireless carriers to find out which company provides the fastest service across the country and T-Mobile and AT&T took the top honors this year in 3G and 4G speed respectively. The tests were done in 13 different cities from 10 locations in each city. The only variation was that AT&T's 4G was only tested in 11 cities, because there was no LTE coverage in Denver or Seattle yet, and Sprint was only tested in 12 cities because there's no WiMAX in New Orleans.
The 3G tests were all T-Mobile though with an average of 3.84Mbps down and 1.44Mbps up. AT&T is the only carrier that deserves any mention here with 2.62Mbps down, both Sprint and Verizon were just embarrassingly slow. On the whole though, the numbers do say that 3G speeds are faster than last year almost across the board, only Sprint's speeds went down compared to last year.